Top 6 Things to Do in Colorado Springs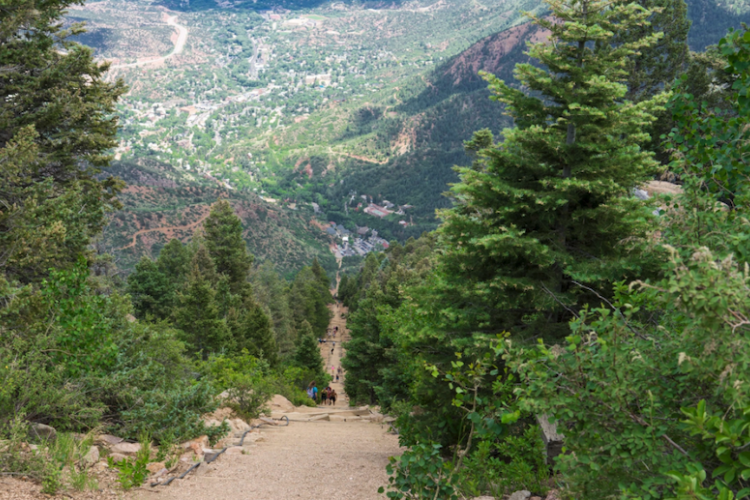 John Denver wasn't exaggerating when he sang about the Colorado rocky mountain high. Being named the #3 city to live in America by U.S. News & World Report, Colorado Springs offers so much more than just beautiful mountain views. With 243 days of sunshine and some of the country's best hiking trails, it's no wonder that so many people want to live here. Whatever has brought you to town, be sure to check out all of the places on this list – we're glad you're here.
Looking for a place to stay? Check out our selection of Colorado Springs vacation rentals.
Pikes Peak
The purple mountain majesties are a sight to behold with Pikes Peak. Nicknamed America's Mountain, hiking to the summit of Pikes Peak is an experience you will never forget. With 2 hiking trail choices, there something that fits everyone's needs. Not really into hiking? You can also drive a 19-mile paved toll road up to the summit. Plus there's the Pikes Peak Summit House at the top of your journey. Don't forget to try their world-famous donuts—they're the only donuts made at 14,000 feet. If you want to stay closer to Pikes Peak, our Cascade vacation rentals are located only a short drive from Pikes Peak Highway.
Manitou Incline
Originally built as a cable car to carry materials to build pipelines on Pikes Peak, the Manitou Incline is one of Colorado's most difficult – but most popular – hiking trails. Gaining nearly 2,000 miles of elevation in less than 1 mile, the Manitou Incline is not for the faint of heart. It is one of the most unique hiking trails in the county, attracting runners, military, Olympic athletes, and hiking enthusiasts alike. Up for the challenge? Finishing the Manitou Incline gives you major bragging rights and will likely be an experience you will never forget.
Garden of the Gods
Looking for something more relaxed with just as many breathtaking views? Check out Garden of the Gods, the most visited attraction in the Pikes Peak region. With dramatic views and sandstone rock formations that are 300 feet tall, Garden of the Gods offers a place to escape to from the bustling city life. With front range climbing, Jeep & Segway tours, bikes & electric bike rentals, and adventure programs, there's something for everyone here in this magical oasis.
The United States Air Force Academy (USAFA)
Ranked #39 of the top National Liberal Arts Colleges in America, the United States Air Force Academy is one of the crowning jewels of Colorado Springs. Besides producing providing high-quality education to produce commissioned Second Lieutenants, USAFA acts as a military base serving the nation. With 65 years' worth of tradition, you're sure to enjoy your trip to see all that the Air Force Academy has to offer.
Cheyenne Mountain Zoo
Ever wanted to get up close and personal with exotic animals at the base of a mountain? Well here's your chance! Open 365 days a year, the Cheyenne Mountain Zoo boasts 146 acres of wildlife, and is home to animals of every variety. You can even get see the animals from the sky with the Mountaineer Sky Ride. Ranked as 1 of the top zoos in the country by USAToday, the Cheyenne Mountain Zoo is an experience you won't want to miss.
Olympic Training Center
Home to athletes and coaches as they train for the next Olympic and Paralympic games, many travel from around the world to be able to train here at this beautiful city in Olympic City, USA. Interested in seeing where the athletes train? Public tours are available Monday – Saturday, and include at 45-minute tour of the training complex, including weightlifting and wrestling facilities, the Aquatics Center, and the Sports Center Gymnasium.